Hey! Hey! Hey! I am about to Geek Out on ya'll, One… Mo… Gin! (Who just read that and knew EXACTLY what I was saying?) I know, I know. I am one cool, 40 year old chick with a bunch of spread out aged kids and a HOT husband, and you just can't believe that geek is anywhere in my lifestyle plan, but thanks to my girl Yo… it is. (Yes, I blame her for THIS part) My name is Kellie White, and I am an Avid Podcast Listener. I dig it. I really do.
What is so cool about it, is that all you have to do is download your podcast app of choice, and everything is free. I use Castbox.
Any time you have a period to Zone-Out, you can search the plethora of choices, and find just about anything you would like to listen to. I have surprised myself at some of the things that I have actually enjoyed, and I have decided to share some of my faves with you today.
First up….Ear Hustle -"The daily realities of life inside prison, shared by those living it, and stories from the outside, post-incarceration."
People! I never in a million years would have THUNK that this would be even the slightest bit interesting to me. Low and behold… I am hooked! There are some crazy stories that are told here. Just check in on the first episode called "Cellies" and see what I mean. You'll be like, "What Tha…?"
The Nod– "The Nod tells the stories of Black life that don't get told anywhere else. Our show ranges from an explanation of purple drink's association with Black culture, to the story of an interracial drag troupe that traveled the nation in the 1940's. We celebrate the genius, the innovation, and the resilience that is so particular to being Black — in America, and around the world. "
These two here are a trip! They talk about some of the craziest stuff, but it is all very interesting, and things you would never hear or read about in any book or the news. Their take on what it is to be black, really makes you think.
They have a few games that they play, and there are some regular topics that they discuss that always have my side hurting from deep gut busting laughter. Get ready, because Eric & Brittany bring the pain!
Imagined Life– "Have you ever wondered what it would feel like to walk in the shoes of a legend and not even realize it? IMAGINED LIFE takes you there.
Each episode guides listeners on an immersive journey through the surprising moments and challenges that shaped someone's life before they were famous. Clues about your identity are dropped along the way, but only at the end will you learn who "you" are.
Part mystery, part deeply immersive story, and part inspiration for how to weather life's unexpected trials, Imagined Life shows just how connected we all are. "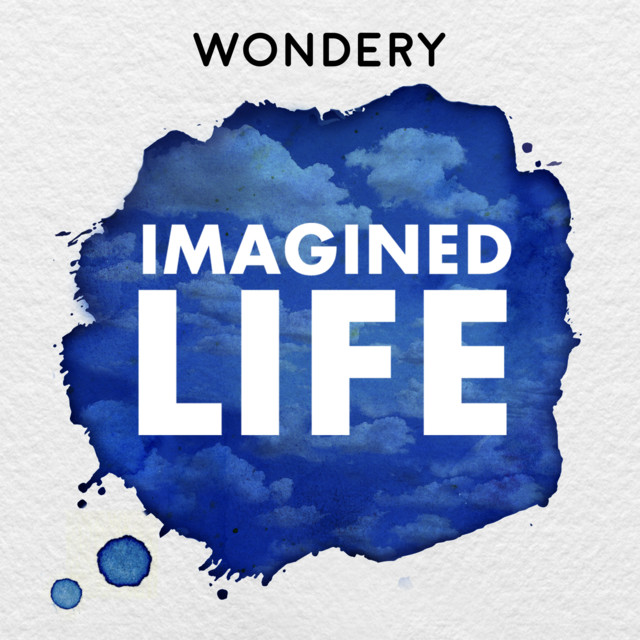 This one is one of my ABSOLUTE faves!!! It gives a bit of mystery while telling the story of someone famous, giving information that most people would not know, and there are never obvious clues given. I love that you do not find out who "You" are, until the very last sentence read. My favorite episode would have to be "The Handler".
The Popcast With Knox & Jamie-" A weekly pop culture podcast seeking to educate on things that entertain, but do not matter. "
O…M…G! These two are Cray-Cray! I am not sure how they know each other, or how this came to be, but they are great together, and I hurt myself laughing every time I listen. I kind of skip around and listen, as they have like 3-400 episodes, something crazy like that, but they are a hot mess! Just check out "Flavor Town", and you will see exactly what I am talking about! They are from Alabama, and the twang is real. Just makes everything all the more hilarious!
Pop Culture Happy Hour-" A fun and freewheeling chat about the latest movies, television, books, comics and music. "
Last, but not least, is Pop Culture Happy Hour. What I really like about this podcast is that it gives me a quick peak at shows that I MAY want to check out. For those times when I am looking for a show to possibly binge, (on the very, very rare occasion that I have a kid free time to do so), or a movie that I may want to check out. The panel consists of people from all walks, so the opinions are usually all very different. I really like that they put what they are reviewing in the episode title, so you always know what they are about to discuss. Makes it a bit easier to decide what you want to listen to, and they are only about 25 minutes long.
So, that wraps up my first Podcast Listeners Anonymous post. LOL! If you have any questions, please do not hesitate to reach out. If you just so happen to find something interesting, or already listen and have something to suggest, I am always down to add to my "Subscribe" list. I will be back again to share more of what I am listening to, so stay tuned, and Be Blessed!
Kellie