Can you believe that it is the last day of July? Man! This year is flying by! Crazy that there are less than 3 weeks before school starts back.
I am pretty good at staying on top of all things Back to School, but I am going to tell you what I truly dread. SCHOOL SUPPLY SHOPPING!!! I know, I know! "Kellie, you should buy the kits that they sell at the end of the school year." (insert sarcastic frowny face and head wagging here.) I am NOT thinking about that when school is letting out. I am just barely hanging on by the time school is out, so to wrap my brain around purchasing a Back to School item is just not my jam. I am wondering if I can bribe Kamren into doing the S.S.S. for me….#sorrynotsorry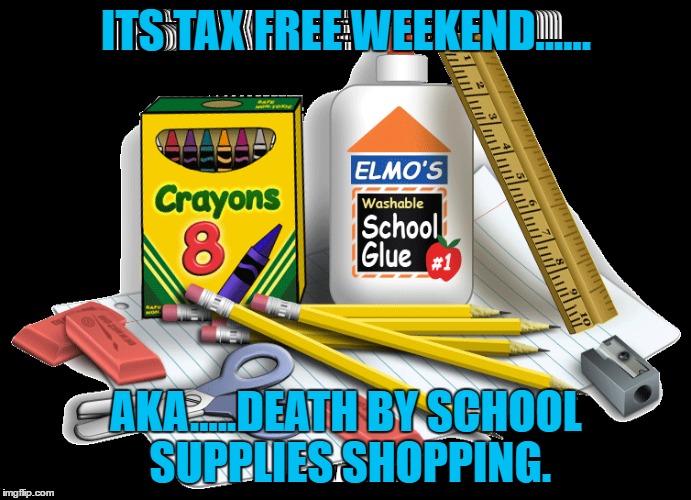 In the midst of preparing us for vacation, I have managed to get my 3 youngins' set, with the exception of school supplies, with their new gear for the brand new school year. We will have a Sophmore, a Sixth Grader, & a First Grader. They will each be at a different school, and will never go to school together again. Kind of sad, huh? I really know how to space 'em, don't I!
Donovan is going to have us busy with all things football. (Yeah, my boy made Varsity) I've got my Hawk Mama shirts ready!
Kori is to be a Clarinet Extraordinaire! Sooooo her to be a band member. Out of all of my children….
Drew is on point to be a scholar. She has been working on her writing skills, (she likes to walk through the house copying the words she sees) and her "math" work through the summer. I am not really sure what this "math" is, but that is what she is saying shes doing in that workbook.
Once we are back from our trip, we will have to kick it in high gear to put our finishing touches on our prep. Hair is to be done. Sports physicals to be completed, & sack lunch items to be purchased. Fall is upon us, Ya'll!
Blessings,
Kellie